As you will probably know, I am a vegetarian, and as such I have to look to other sources in order to eat the right amount of protein which my body needs. One of the staples of my diet is Quorn, who offer healthy protein alternatives for those of us who avoid animal products or want to add more low fat, high protein to their diet.
I was lucky enough to have been invited to the recent Quorn Press Day not only to try out some recipes using their products but to learn about the importance of protein from Fitness and Wellbeing guru Jessie Pavelka, who stars on British and American television screens with his life-changing work on Sky's Obese: A Year to Save my Life program, and Lifetimes DietTribe, and has worked to motivated the masses on Oprah's OWN Wake-up Workout, The View, and most recently The Doctors . In July 2013, he will be returning to Sky presenting the equally inspirational FAT: The Fight of My Life.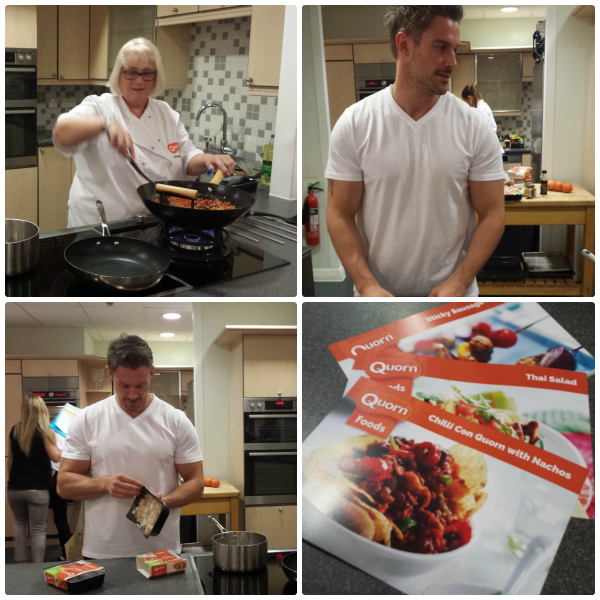 I was welcomed warmly by Jessie as he arrived, having fought through the recent tube strike and resulting traffic to reach the event in central London. After a few minutes preparing Jessie appeared in the kitchen and myself and some other bloggers settled into our seats to ask questions and try some of the Quorn recipes being cooked up by the lovely Carol.
We tried 3 different dishes: Chilli con quorn with nachos, Thai salad and sticky sausage skewers. Now I am a frequent users of the Quorn products but had never thought of marinating the sausages in a sweet mango chutney nor had I considered serving chilli with nachos! A few simple additions can really make a difference to a meal and the bloggers and I really enjoyed the food. Obviously, I have experience with Quorn products, but the other ladies were not so and were surprised at the flavour and texture of the products.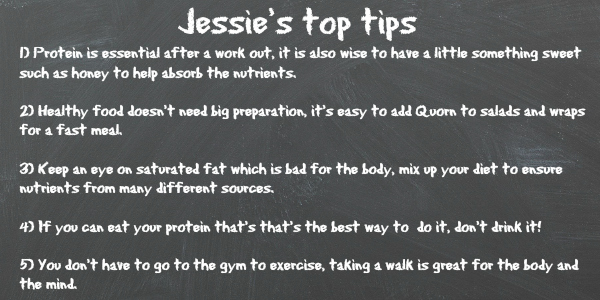 Of course, not only did we get the try out the food but we got to ask Fitness expert Jessie about himself and about his philosophy for keeping active and healthy. Jessie told us how growing up in Texas was a very active child and naturally got involved in sport, mostly American Football, as a way to burn his mass of energy. When he quit sports fitness took over, with his love of sport which driving him to further his knowledge in the arena of fitness having learnt how to make himself bigger, stronger and faster and applying this to other people's lives.
I really enjoyed my time at the Quorn Press Day getting to know Jessie and taking away some of his top fitness tips. I have also gone away with some fabulous new recipe ideas for my meals and I hope to share these with you as I give them a go! I really recommend giving some Quorn products a go, even if you are a meat eater as they are surprisingly good and, of course, better for your health than fattier meat products.