I have to admit that I am not the best when it comes to looking after my hair. I have spent half my life dyeing and generally abusing it so it's not a surprise that sometimes it starts to rebel! I was lucky enough to have recently been offered a hair cut and colour* from  Easton Regal – hair salon just across the road from my office in Farringdon – and I jumped at the chance for some pampering and making my poor hair look and feel better.
Easton Regal was launched by Bryn Wilkins and James Kinnear in 2010 having had a fantastic career including 11 years each at Trevor Sorbie and list of high profile clients from fashion, theatre and film. The ethos behind the salon is to offer five star customer service with old school hairdressing disciplines.
Easton Regal is very proud of it's salon which is spread over three impressive floors with a contemporary feel which certainly does not lack character with dark wood and sumptuous furniture all around. The space also holds a designer boutique on the lower ground floor, a vintage nail bar on ground level as well as a micro mist hair steam machine.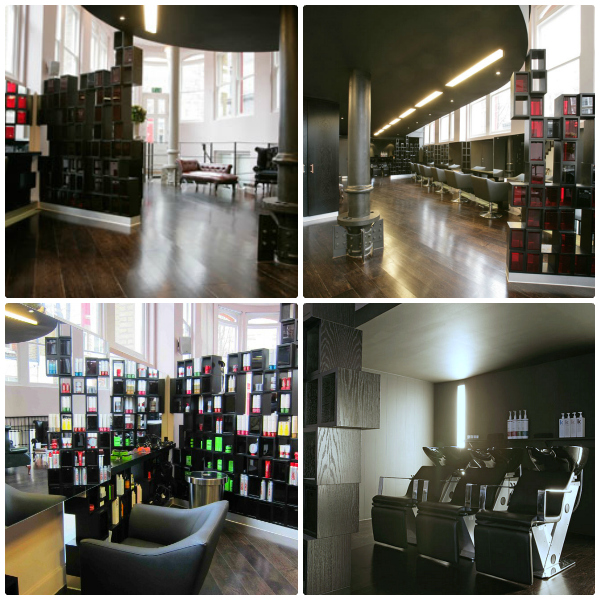 Additional benefits of frequenting the Easton Regal include:
A bespoke lunch menu that is delivered to styling stations within ten minutes from local restaurants
Free Wi-Fi throughout all floors
Massage chairs to enjoy whilst having your hair washed
A concierge team on hand to order a taxi for you
Eco-friendly paraben-free products by Kevin Murphy, planet friendly packaging and disposable towels as standard
A members club where after 12 months of loyalty you receive discounts and promotions for local establishments
A nail bar where you can indulge in a selection of manicures and pedicures, including Minx nails and Swarovski crystal pedicures for some added sparkle
To help on your big day Easton Regal offers a Wedding concierge service where in addition to hair and nails there is a bespoke service recommending the best florists, photographers and make-up artists in London to complement.
On entering the salon I was greeted by a friendly receptionist and show to a rather comfortable chair with refreshments whilst I waited for my colourist, Tori, to be ready for me – which didn't take long. Tori and I discussed what sort of colour I wanted, I decided to stick close to what I already had which is various shades of golden brown with some auburn undertones and Tori recommend I try a dip-dye effect with the darker shades at the top and with lighter shades towards the ends of my hair which I agreed to. The shade selection process took some time, but I felt very confident in the colours we had chosen and had total trust in Tori to get it right. I haven't had my hair professional dyed for a very long time, preferring to do my own at home so I was very excited to see how it turned out!
Next I had a quick consultation with my hair stylist – Holly – who explained I'd need to take off at least a couple of inches to get rid of the tatty ends which I had unfortunately been accumulating – I was saddened at the idea of loosing the ends, but knew it had to be done to help my hair be happier and healthier! We decided for not too much of a change, but to sort out my layers and give my hair a general once over. Tori took her time applying the colour to my hair and took great pains to ensure it was exactly in the correct place to get the best effect – taking into consideration my parting and where my hair would fall to ensure an even distribution of colour. One the colour was applied I was left to my own devices for 30 or so minutes whilst it did it's thing – however, I was far from abandoned and was offered numerous refreshments and magazines to keep me entertained.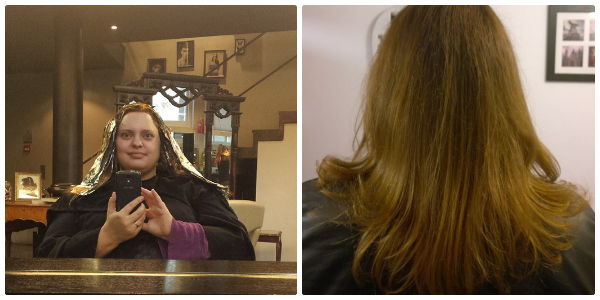 I was lead towards the back of the salon to have my hair washed – amazingly, in a massage chair which works away your knots whilst your hair is washed and conditioned – by this point I felt so relaxed and happy I had forgotten about my stressful day at work and was really enjoying being pampered and thoroughly looked after. Holly returned to shape and style my hair which she did with precision whilst we chatted away, she styled my hair with some lovely curls and really showed off the new colours. The photo above really doesn't do the look justice!
I was very happy with the outcome of fabulous colours and a stylish cut. I had been treated like a VIP from start to finish with exceptional service – with the friendly staff making sure I had everything I needed for a relaxing session. I left feeling super confident and fabulous with my new look. I certainty recommend Easton Regal to anyone looking for not only for a gorgeous new hair do, but anyone who likes to escape the hustle and bustle and enjoy a bit of pampering time.
I award Easton Regal 5 out of 5 stars and will certainly be back!