My sister and I often find ourselves investigating the various restaurants around London on our shopping or cultural jaunts in town, and after our recent visit to
Apples & Pears for cocktails
we found ourselves in need of dinner and looked to Spitalfields Market for the solution where we found Giraffe.
Wanting to create a friendly place offering customers the chance to explore foods from around the globe, and the music to go along side it Giraffe is operated by founders Juliette and Russel Joffe and Andrew Jacobs who all still maintain an an active role in the day to day running of the business. Russel always wanted to have a business called giraffe – hence the restaurant 'giraffe' was born in 1998 and the first restaurant is in Hampstead.
The overall vision for this brand was to be a relaxed venue where people could have a great coffee and freshly cooked food at any time of day – somewhere sunny and full of smiles.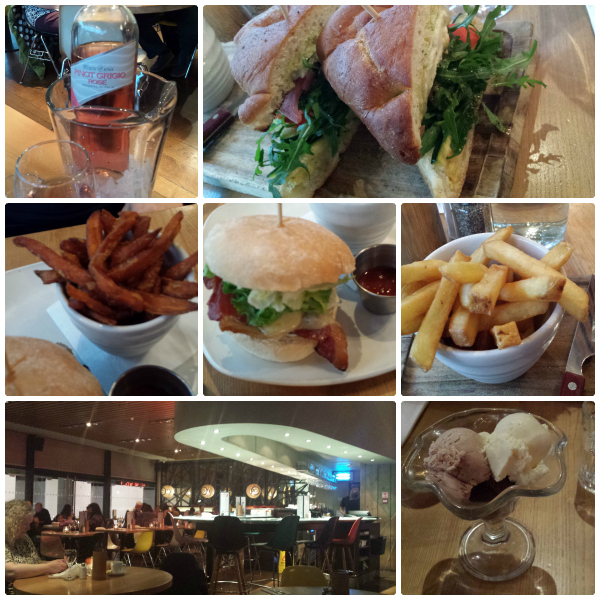 My sister and I were certainly smiling whilst we looked over the extensive and wide ranging menu. Being vegetarian I was happy to see there were a few different options, whereas in some restaurants there can be one single dish I can eat.  I went for the goats' cheese, pesto & grilled veggie focaccia sandwich which comes with grilled courgette, red pepper, aubergine, rocket & a drizzle of basil pesto, I also have some skin on fries to go with my sandwich.
My sister decided on "The Giraffe" burger, a 170g british beef patty with smoky bacon, mature cheddar, lettuce, tomato, dill pickle, mayo & smoky tomato relish. On the side Nikki ordered one of her favourites – sweet potato fries with chipotle aioli. We also settled upon a bottle of Rose to go with our meal.
My sandwich which I found to be full of vegetables was very tasty, and despite not being able to eat all the bread (probably because I was enjoying my chips so much) I was very happy with my meal. I am a big fan of cheese and the goats cheese had just the right acidity to balance out the sweetness from the vegetables.The chips themselves were very tasty and I do prefer when they have their skins – it tricks me into thinking I am being healthy! My sister very much enjoyed her burger which came with bacon and mature cheese, and her sweet potato fries were top notch. Having decided to be a bit naughty we then ordered some ice cream to finish off our meal, we went for 3 scoops vanilla, strawberry and chocolate.
Nikki and I had a great experience at Giraffe, we enjoyed the culturally vibrant atmosphere, the flavourful food and the friendly service. I would certainly recommend it to anyone looking for food experience with a bit of a twist. I award Giraffe a 4 out of 5 stars.